Published on May 12, 2016
Documentary about Patrick Knowlton, the crucial witness to the cover-up by the FBI and the American press of the murder of Deputy White House counsel Vincent W. Foster Jr.
FBIcover-up.com
Check Out website dedicated to revealing the truth by making government and court records available for public review.
Click Here…
NEW Evidence…
According to a report by WND.com: After 23 years, " Newly discovered evidence unearthed from boxes stored deep in the National Archives lend credence to theories about foul play and cover-up that have been hinted at by at least three books and countless articles about Vince Foster's death."
"The newest piece to the puzzle was uncovered by two citizen researchers, one of whom was a witness involved in the case from the beginning."
"What had only been suspicions about missing death-scene photographs are now listed as facts in public documents."
"The smoking-gun information comes from two documents: a two-page letter of resignation and a 31-page memo both written by Starr's lead prosecutor, Miguel Rodriguez."
"Rodriguez refers in his letter to photographs showing a wound on Foster's neck – a wound that did not exist according to accounts in Starr's official government report."
"The obvious questions: How could a suicide victim be found with two wounds – a .38-caliber gunshot into the mouth that exited through his head and another wound on the right side of his neck that one of the paramedics described as a small-caliber bullet hole? And why would the government investigators go to great lengths to cover it up?"
"Another question some will be asking is about Hillary Clinton's embattled presidential run. Can it survive renewed scrutiny into one of the darkest clouds that hovered over her husband's administration – especially considering her close friendship with Foster and the fact that her aides were seen rifling through files in Foster's White House office just hours after his body was found?"
"The newly discovered evidence has actually been sitting, unnoticed or ignored by the media, in the National Archives and Records Administration for years. In 2009, two documents created by Rodriguez were discovered in the archives by researchers Hugh Turley and Patrick Knowlton."
40TH PRESIDENT OF THE UNITED STATES
January 20, 1981 – January 20, 1989
VICE PRESIDENT George H. W. Bush (SCUM-Bag) 
We don't have a trillion-dollar debt because we haven't taxed enough, we have a trillion-dollar debt because we spend too much.
– Ronald Reagan
Unfortunately, Our National debt is Now Over 19 Trillion Dollars—– Thanks to the Puppet Masters?
President Ronald Reagan had a Secret Plan; a Secret Agent on a Secret Mission. 31.2 trillion dollars! If you have not heard the name Lee Wanta before , you will soon. His authorized biography will shake the world and change history. Lee Wanta, is 31.2 trillion dollar man. President Reagan and his Secret Agent Ambassador Lee Emil Wanta masterminded a creative way to financially take down the economy of the Soviet Union (Evil Empire) without firing a single shot. The 32.1 trillion he amassed in the process has finally been recovered and accounted for after it was hijacked by the a criminal non-Government organization known as the Federal Reserve and the Corporate State of Wisconsin. Controversial and true with hundreds of documents included to support this compelling true story. Intel disclosed today that can change an entire election and the financial future of our country and the world. The only authorized biography of Lee Wanta , Wanta Black Swan White Hat. A must read for every single American, Never fully revealed until today. Published by Viking International, LLC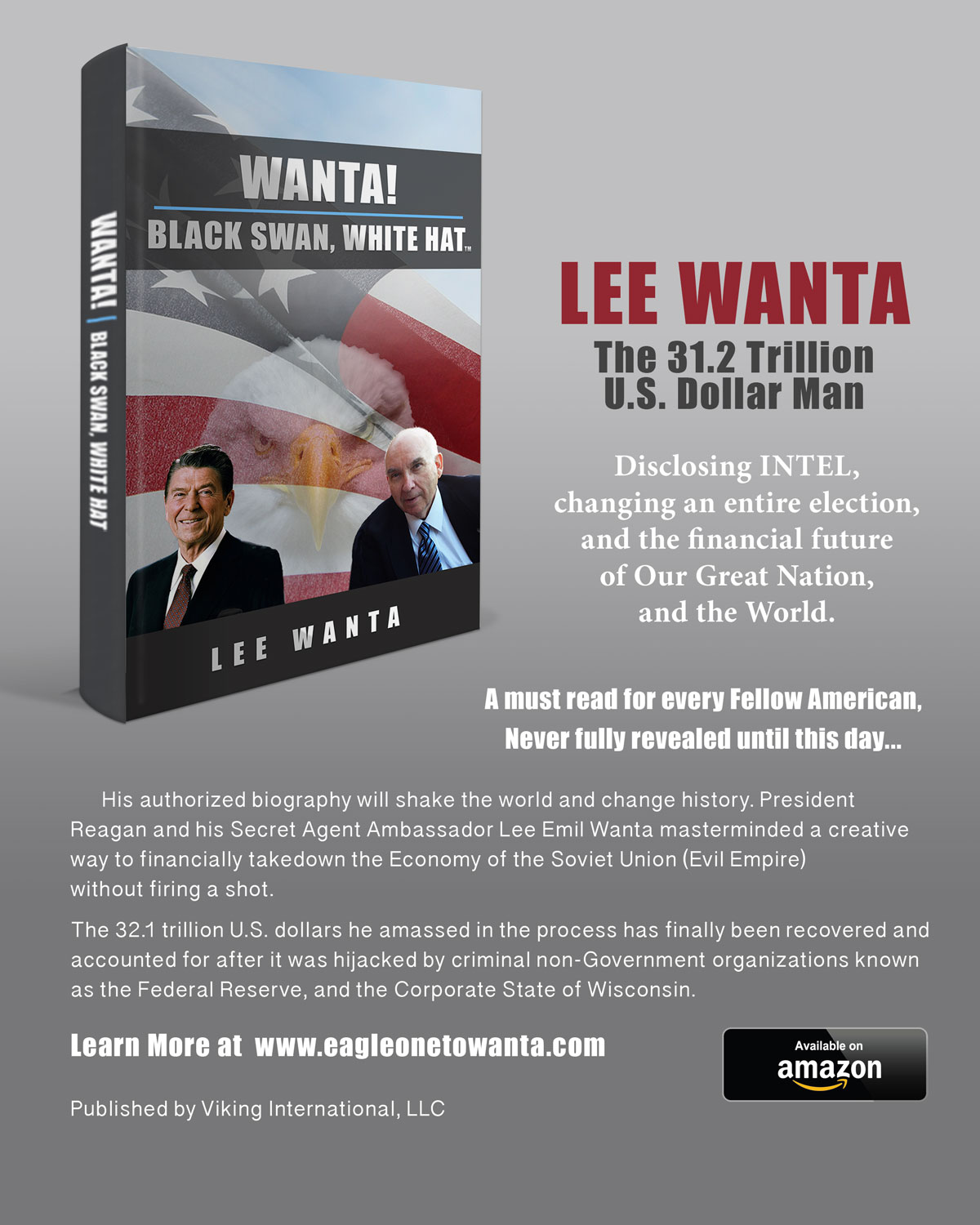 Eagle One To Wanton: Finally, Two Corrupt Dynasties Exposed? Learn some history about the Bushes, the Clintons, Osama Bin Laden, President Obama and the Truth about The Federal Reserve. In July 1993, Ambassador Lee Wanta was arrested on his way to meet Vince Foster, chief white house deputy counsel, to give him a 250 million dollar donation for Hillary Clinton's Children Defense Fund. Vince Foster allegedly commits suicide 10 days later. The 250 million dollars given to the Clintons is unaccounted for? Foster was found dead of an apparent gunshot wound to the head in Ft. Marcy Park. While the U.S. Park Police studied the body, Foster's office at the White House was being looted.
In July 1993, Ambassador Lee Wanta was arrested on his way to meet Vince Foster, chief white house deputy counsel, to give him a 250 million dollar donation for Hillary Clinton's Children Defense Fund. Vince Foster allegedly commits suicide 10 days later. The 250 million dollars given to the Clintons is unaccounted for? Foster was found dead of an apparent gunshot wound to the head in Ft. Marcy Park. While the U.S. Park Police studied the body, Foster's office at the White House was being looted.
Published on Aug 5, 2016
Hillary will stop at nothing to claw her way into the White House; unfortunately, people are dropping dead left and right in her path and, in the case of the last two found dead earlier this week, the mainstream media is pretending not to even notice they are gone…
Ambassador Lee Wanta will also reveal information on Hillary Clinton's dealings involving the Clinton Foundation while she was Secretary of State. 
Gibby Media Group has a NEW Documentary Video Coming in Summer 2016 … It Tells ALL and Heads Will Roll…
Title 18 USC Section 4 – Misprision of Felony
Whoever, having knowledge of the actual commission of a felony cognizable by a court of the United States, conceals and does not as soon as possible make known the same to some judge or other person in civil or military authority under the United States, shall be fined under this title or imprisoned not more than three years, or both.
18 U.S. Code § 201 – Bribery of public officials and witnesses
(a)For the purpose of this section—
the term "public official" means Member of Congress, Delegate, or Resident Commissioner, either before or after such official has qualified, or an officer or employee or person acting for or on behalf of the United States, or any department, agency or branch of Government thereof, including the District of Columbia, in any official function, under or by authority of any such department, agency, or branch of Government, or a juror;
the term "person who has been selected to be a public official" means any person who has been nominated or appointed to be a public official, or has been officially informed that such person will be so nominated or appointed; and
(3)
the term "official act" means any decision or action on any question, matter, cause, suit, proceeding or controversy, which may at any time be pending, or which may by law be brought before any public official, in such official's official capacity, or in such official's place of trust or profit.
EAGLE ONE TO WANTA
WANTA! BLACK SWAN, WHITE HAT
The biography provides in-depth information about how the lawless and non-governmental Federal Reserve System and the Corporation State of Wisconsin seized his personal funds (Alford Plea June 10th 1994 Exhibit K see below), through criminal and corrupt activities operated by a sophisticated system of Puppet Masters. It shows how articles published by well- known Wall Street Journal Editorial Board member Holman W. Jenkins were inaccurate regarding Lee Wanta, who at the time was serving as a Sheriff's Department "deep cover investigator" of Falls Vending Services, Inc. a Wisconsin corporation owned and operated by Jerome Engle, also AKA Jerry S. Engel, who was linked in with the assassination of JFK and Bobby Kennedy under an operation secretly called Elm Street. Also the biography addresses the false accusations written about Lee in the book" Thieves World" influenced by Assistant FBI Director Jim Moody published by Simon and Schuster, New York.
Lee Wanta's biography contains new never-released Intel information regarding White House Deputy Counsel Vince Foster and Hillary Clinton receiving 250 million USDollars from Lee Wanta in favor of the Children's Defense Fund which has never been accounted for. The same day these funds were transferred Lee Wanta was put in a Swiss/Suisse Prison and shortly after White House Deputy Counsel Vince Foster mysteriously died. This biography asks hard questions that need to be addressed by many well-known politicians, business and banking officials. It explains how the Corporate State of Wisconsin operates well outside the U.S. Constitution and how they continue to operate this way under the administration of Governor Scott Walker as a Corporation and not a State. It exposes current activities in the Ukraine and corrupt destabilization efforts happening throughout our Sovereign Nation and throughout the world and who is behind it. It also helps the public understand how the "Puppet Masters" are controlling ISIS / DAESH/ ISOL. (Why we do have three confusing names for the same group?)
Learn how The United States Congress has censored and suppressed vital information that should have been disclosed under Title 18, Section 4 and Section 201 and how some elected officials have been using bribery and extortion to obtain Lee's funds. Because of the sensitive nature of the content and some of the new information regarding Presidential candidates from both parties, it could have possible implications on the upcoming Presidential election.
The biography helps dispel any doubts as to who Lee Wanta really is, about the $31.2 trillion he controls now, and what his goals and Mandate is from President Reagan too help our country rid itself of continuing political corruption and return us back to a strong financial footing again as a world leader. The author of the biography is Lee Wanta himself, and has been edited by Lon Gibby, and published by Viking International, LLC. To follow-up the biography, a feature film documentary entitled Eagle One to Wanta is in full production by Gibby Media Group, Inc. to be completed and released in 2016 in time well before the U.S Presidential election.www.eagleonetowanta.com.
Ambassador Lee E. Wanta's timely biography helps clear up some of this confusion and restores hope that we can get our nation back in line with our Constitution, We the People and by the People.
For more information contact
Lon Gibby at 509-467-1113 lon@gibbymedia.com CEO Gibby Media Group, Inc.
How Evil Is Hillary and Bill Clinton?
If You LOVE AMERICA PLEASE SHARE.
WAKE UP AMERICA! ( Hillary's 22 Biggest Scandals Ever) She Belongs in Prison, Not in the White House Again!